Winning Blackjack Tips

So you know all the basics of playing blackjack and are looking for a few tips to help you play a winning game? Then you have come to the right place!
The Blackjackfiesta team has compiled the list below based on years of collective blackjack experience as well as drawing from the expertise of some of the best online blackjack players across the internet. That said, here are our top 10 quick Blackjack tips to help you play winning blackjack:
Starting out: If you are new to blackjack, play online, casinos offer a practice mode with autoplay to assist you. Play until you have the hang of it so that you don't lose money foolishly.
Bankroll: Always predetermine your Bankroll prior to playing so that you are not spending money you shouldn"™t be in the heat of the moment when you just feel like the next hand could be "lucky".
Choosing a Table: Choose a table where the maximum bet is not higher than 5% of your bankroll, that way you will lose less and be able to enjoy a great deal more game time, rather than playing one or two hands and being done.
Basic Strategy: Memorise it, apply it and stick to it no matter what"¦this is probably the most important tip we can give you, and if you will only pay attention to one of these, this is it!
Think 21: The aim of blackjack is to get as close to 21 as possible, don"™t try to copy or beat the dealer, you will bust more often than you win.
Insurance is for cars and card counters: You can"™t card count online, so just forget that the option of insurance even exists.
Split: pairs of Aces and 8's, but DO NOT do this on any face cards or 10"™s.
Know when to hit and stand: Hit hard until you reach 17 or more, stand on 17 or more and hit soft 18 if the dealer has 10.
Watch the values: If the dealer holds 7 or higher, play up until 17 or higher. Against dealers, 4, 5 or 6 double with 9 and play soft hands of 13-17. Double your 10 against dealer's 9 or lower and double with any hand of 11.
Variation is key: Vary your betting amounts according to your results, increase them if you are winning and decrease them if you are losing. This is common sense that is often forgotten in the excitement of the game.
Always bear in mind that blackjack is a game that requires a great deal of practice, and the more you play the better you will get! Play only at trusted casinos like William Hill Casino Club
William Hill Casino Club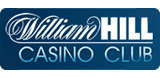 This Playtech powered casino is brought to you by a group that boasts over 70 years of expertise in gaming. It has been a leader in sports betting for many years and is already a well-established and respected name within the online gaming industry offering betting, casino, poker and bingo to online players across the globe.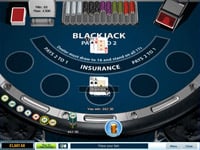 This casino currently offers new players a sign up bonus of 150% up to $300 free (with higher tiers for mid and high rollers available too) on your first deposit of $50 or more. The wagering requirement is a x12 playthrough, which is pretty standard. There is also a second deposit bonus available of 60% up to $500 (wagering requirement: 10x playthrough).
In addition, there are a variety of promotions available including a bonus of 20% up to $300 each month for a whole year, refer-a-friend bonuses of $50 per friend who signs up and plays as well as regular comp points promotions where you can earn extra points and convert them to real casino money. With so much on offer including over 200 casino games with a great blackjack offering, friendly 24/7 support and a name that you can trust, it's a premier destination for all casino players. Play Now!