Blackjack ‐ the game that keeps getting better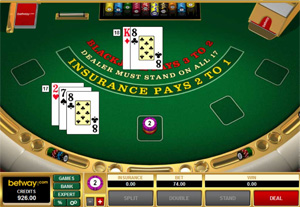 Play great blackjack games at Betway Online Casino

As the 21st Century unfolds, it's clear from the developments in the areas of communications, medicine, education and technology that it's an exciting time to be alive. It is also one of the best times to be a blackjack player.
Until recently, many blackjack enthusiasts believed that the best days for blackjack were behind us, having seen their heyday with the New Orleans river boat casinos back in the 1800's when the game was still referred to as Vingt-et-un. Others feel that the introduction of the 3-to-2 bonus introduced to the 1920's version of the game was the best time to play, while others insist that the best days for blackjack were in the 60's and 70's when card counting was introduced before the age of technology and casinos couldn't pick up players using these techniques. Others still will say that the best times were in the 80's and 90's when team play peaked and blackjack chips were racked in by organised teams.
But before you agree with one of these notions and accept that blackjack has seen its' best days and you should consider what is available to blackjack players today. Here we'll take a look at what it means to be a blackjack player in the 21st century.
Accessibility
Today, blackjack players across the globe are spoilt for choice when it comes to the accessibility of the game with over 150 countries offering the game in land based casinos. On the world's oceans approximately 140 cruise liners feature casinos offering the game and of course, every person across the globe who has access to a computer, tablet or mobile device and an internet connection can play blackjack online.
Variety
Each of the above-mentioned venues also offers a number of blackjack game variations, each with its own rules and game play progression, so players can pick and choose from a number of games to find the ones that are most enjoyable and rewarding for them. Online casinos have the capacity to offer more game varieties than their land based counterparts and draw from game variants from across the world, enabling players to play these without leaving their homes.
Another recently added variant to online games in recent years has been Live Dealer Blackjack which enables players to play against and interact with a real life dealer in real time through streaming video and chat functions.
Better Odds
While many land based casinos have tightened their rules and changed their payouts for natural blackjack over the years, some online casinos still offer preferable rules and payouts, which means that players have a good chance of enjoying some decent wins when playing skilfully according to sound strategy.
Playing according to basic blackjack strategy is easier than ever before as playing online means you have access to all of the information you'll need to learn to play this way and you can practice in free play mode before ever spending a cent. You'll also have easy access to a strategy card and even an autoplay function that will play the game for you if necessary.
More Tournaments
In the past, blackjack tournaments were rare and one had to attend these events at a land based casino venue which meant that not many players ended up playing in these. Online casinos however host a variety of blackjack tournaments on an ongoing basis, giving player the opportunity to play in these, enjoy the social aspect of the chat function and walk away with some generous prizes.
Thanks to the advancements in technology, there has never been a better time for blackjack players to play this exciting game and with things continually improving, one thing is for sure...this is a game that is going to keep getting better and better.